---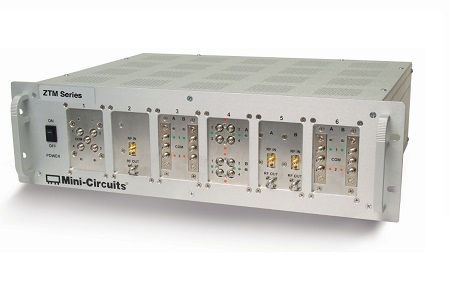 The Big Deal
6 customizable hardware windows, each of which can be populated with your choice of:

Up to 2 SPDT mechanical switches (DC to 18 GHz)
Up to 2 mechanical transfer (DPDT) switches (DC to 18 GHz)
SP4T mechanical switch (DC to 18 GHz)
SP6T mechanical switch (DC to 12 GHz)
Up to 2 programmable attenuators (0 to 30, 60, 90, 110, and 120 dB)

Control via USB and Ethernet-TCP/IP (HTTP and Telnet Protocols)
User-friendly GUI software included
DLLs and complete programming instructions also included
Easy maintenance
Ultra-Fast Turnaround - Shipment within 2 weeks from order or less!
To simplify and accelerate the development and delivery of custom test solutions, Mini-Circuits developed the ZTM-series of modular test systems. The design consists of a 3U, 19-inch, rack- mountable chassis with six open hardware windows in the front panel, each of which may be equipped with one of several components to meet your requirements. This modular structure allows an extremely wide variety of custom configurations with exceptionally fast turnaround times – within 2 weeks or less!
ZTM-series systems may be outfitted with your choice of mechanical SPDT, SP4T, SP6T, and transfer switches as well as programmable attenuators (0-30, 60, 90, 110, and 120 dB) resulting in hundreds of possible configurations. All models are controlled via USB and Ethernet-TCP/IP (HTTP and Telnet protocols), allowing setup flexibility and easy remote test management.
All units come supplied with Mini-Circuits' user-frriendly GUI software, DLLs for 32- and 64-Bit windows® systems, complete programming instructions for Windows and Linux® environments, a user's manual, and all accessories needed for immediate use right out of the box. No drivers required; just plug and play!
Step 1 of 3: Configure Your Test System
Populate each window of your test system by selecting from the 6 drop-down menus below:
Blank

Programmable Attenuators

One Attenuator: 120 dB

Two Attenuator: 120 and 120 dB

One Attenuator: 110 dB

Two Attenuator: 110 and 110 dB

One Attenuator: 90 dB

Two Attenuator: 90 and 90 dB

One Attenuator: 60 dB

Two Attenuator: 60 and 60 dB

One Attenuator: 30 dB

Two Attenuator: 30 and 30 dB

SP2T Switches

One SPDT Switch

Two SPDT Switches

SP4T Switches

SP6T Switches

Transfer Switches

One Transfer Switch

Two Transfer Switches

Blank

Programmable Attenuators

One Attenuator: 120 dB

Two Attenuator: 120 and 120 dB

One Attenuator: 110 dB

Two Attenuator: 110 and 110 dB

One Attenuator: 90 dB

Two Attenuator: 90 and 90 dB

One Attenuator: 60 dB

Two Attenuator: 60 and 60 dB

One Attenuator: 30 dB

Two Attenuator: 30 and 30 dB

SP2T Switches

One SPDT Switch

Two SPDT Switches

SP4T Switches

SP6T Switches

Transfer Switches

One Transfer Switch

Two Transfer Switches

Blank

Programmable Attenuators

One Attenuator: 120 dB

Two Attenuator: 120 and 120 dB

One Attenuator: 110 dB

Two Attenuator: 110 and 110 dB

One Attenuator: 90 dB

Two Attenuator: 90 and 90 dB

One Attenuator: 60 dB

Two Attenuator: 60 and 60 dB

One Attenuator: 30 dB

Two Attenuator: 30 and 30 dB

SP2T Switches

One SPDT Switch

Two SPDT Switches

SP4T Switches

SP6T Switches

Transfer Switches

One Transfer Switch

Two Transfer Switches

Blank

Programmable Attenuators

One Attenuator: 120 dB

Two Attenuator: 120 and 120 dB

One Attenuator: 110 dB

Two Attenuator: 110 and 110 dB

One Attenuator: 90 dB

Two Attenuator: 90 and 90 dB

One Attenuator: 60 dB

Two Attenuator: 60 and 60 dB

One Attenuator: 30 dB

Two Attenuator: 30 and 30 dB

SP2T Switches

One SPDT Switch

Two SPDT Switches

SP4T Switches

SP6T Switches

Transfer Switches

One Transfer Switch

Two Transfer Switches

Blank

Programmable Attenuators

One Attenuator: 120 dB

Two Attenuator: 120 and 120 dB

One Attenuator: 110 dB

Two Attenuator: 110 and 110 dB

One Attenuator: 90 dB

Two Attenuator: 90 and 90 dB

One Attenuator: 60 dB

Two Attenuator: 60 and 60 dB

One Attenuator: 30 dB

Two Attenuator: 30 and 30 dB

SP2T Switches

One SPDT Switch

Two SPDT Switches

SP4T Switches

SP6T Switches

Transfer Switches

One Transfer Switch

Two Transfer Switches

Blank

Programmable Attenuators

One Attenuator: 120 dB

Two Attenuator: 120 and 120 dB

One Attenuator: 110 dB

Two Attenuator: 110 and 110 dB

One Attenuator: 90 dB

Two Attenuator: 90 and 90 dB

One Attenuator: 60 dB

Two Attenuator: 60 and 60 dB

One Attenuator: 30 dB

Two Attenuator: 30 and 30 dB

SP2T Switches

One SPDT Switch

Two SPDT Switches

SP4T Switches

SP6T Switches

Transfer Switches

One Transfer Switch

Two Transfer Switches
Included accessories:
USB control cable - 6.8 ft (USB-CBL-AB-7+)
Ethernet control cable - 5 ft (CBL-RJ45-MM-5+)
Full software & documentation (including GUI, DLL API files, user & programming manual)