---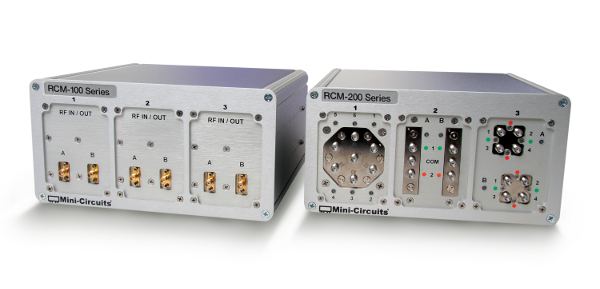 The Big Deal
Mini-Circuits' RCM series modular test systems offer flexibility and fast turnaround for compact test setups. The design consists of a small, light-weight chassis with up to three open hardware windows, each of which may be outfitted with your choice of programmable attenuators or switches.
4 - 6 programmable attenuator channels
0 to 30, 60, 90 or 110 dB attenuation range per channel (1 - 6000 MHz)
0 to 120 dB attenuation range per channel (1 - 4000 MHz)
Models up to 8 GHz also available on request
6 mechanical SPDT or transfer (DC-18 GHz) switches
3 mechanical SP4T (DC-18 GHz) or SP6T (DC-12 GHz) switches
2 mechanical SP8T switches (DC-12 GHz)
Custom combinations of SPDT, SP4T, SP6T and transfer switches
The system can be controlled via USB or Ethernet (supporting both HTTP and Telnet network protocols).  Full software support is provided, including our user-friendly GUI application for Windows and a full API with programming instructions for Windows and Linux environments (both 32-bit and 64-bit systems).
Step 1 of 3: Configure Your Test System
1.a) Select from the catalog range of multi-channel attenuator systems (enter the quantity required in the right-hand column):
1.b) Select from the catalog range of switch systems (enter the quantity required in the right-hand column):
1.c) Select a custom switch configuration:
Blank

SP2T Switches

One SPDT Switch

Two SPDT Switches

SP4T Switches

SP6T Switches

Transfer Switches

One Transfer Switch

Two Transfer Switches

Blank

SP2T Switches

One SPDT Switch

Two SPDT Switches

SP4T Switches

SP6T Switches

Transfer Switches

One Transfer Switch

Two Transfer Switches

Blank

SP2T Switches

One SPDT Switch

Two SPDT Switches

SP4T Switches

SP6T Switches

Transfer Switches

One Transfer Switch

Two Transfer Switches
Included accessories:
USB control cable - 6.8 ft (USB-CBL-AB-7+)
Ethernet control cable - 5 ft (CBL-RJ45-MM-5+)
Full software & documentation (including GUI, DLL API files, user & programming manual)