DAT-31R5A/31A/15R5A Series Evaluation Boards Operation to VDD=5.2V
Background
Mini-Circuits DAT series of 50 ohm Digital Step Attenuators support a wide variety of configurations including attenuation range, step size and operating power supply voltages. Table 1 shows the models, their operating Voltages and associated Evaluation Boards

Mini-Circuits is updating the above models with a new series of DAT Attenuators (Table 2). These models ("A" Suffix) are form-fit functional equivalents. The specified operating supply voltage ranges are nearly identical.

The "A" series models are released to the market using the existing Evaluation Boards which are designed to operate over the specified VDD of up to 3.6V.
HOWEVER: The "A" series is capable of operation over a wider voltage range of VDD, as high as +5.2V.
This Application Note describes the application circuit and provides detailed instructions to configure the existing Evaluation Boards, as shown below, to operate over the extended voltage range (up to +5.2V).
NOTE: Mini-Circuits uses Schmitt Triggers on the Evaluation Boards in order to ensure proper control signals level to the DUT and to filter external noise. For example if a user uses the PC LPT to control the DATs (provides 5 volts level), we need to ensure that the levels will not exceed 3.6 volts max and this is done with the Schmitt Trigger:
N7 on TB-334
N19 on TB-342
N3, N4 & N23 on TB-339 & TB-340
Mini-Circuits will be releasing updated Evaluation Boards which will operate over the entire voltage range, up to 5.2V. These Evaluation Boards will be available from February 2015.
TB-334 Evaluation Board Modification to operate with VDD from 3.6V to +5.2V (Models: DAT-31R5A-SP+, DAT-31A-SP+, DAT-15R5A-SP+)
Modifications:
Limit DC voltage on Pin 13 of DUT (N15) to +3.6V max as follows:

Cut PCB trace going to Pin 13 as shown below & apply a separate DC voltage in the range of +1.17 to +3.6V or
Place a resistive voltage divider from Pin 1 of N2 to Pin 13 of DUT to limit the voltage to +3.6V (eg: for Vdd=+5V use 178kΩ in series and 365kΩ in shunt)

Cut PCB trace going to Pin +14 of N7 & apply a separate DC Voltage to Pin 14 in the range of +1.17 to +3.6V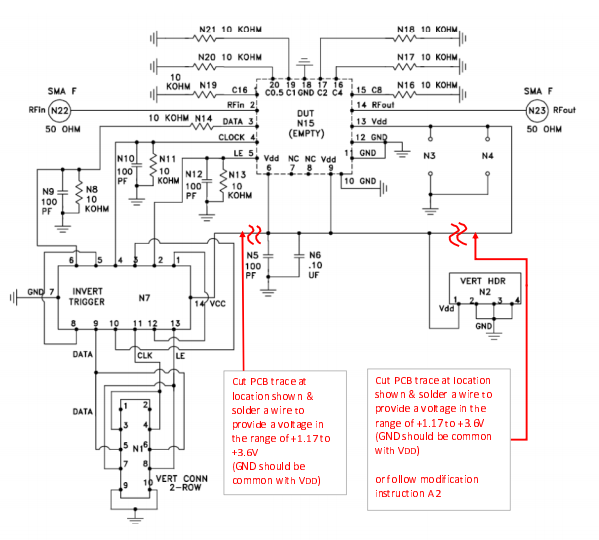 TB-342 Evaluation Board Modification to operate with VDD from 3.6V to +5.2V (Models: DAT-31R5A-SN+, DAT-31A-SN+, DAT-15R5A-SN+)
Modifications:
Limit DC voltage on Pin 13 of DAT(N8) to +3.6V max as follows:

Cut PCB trace going to Pin 13 as shown below & apply a separate DC voltage in the range of +1.17 to +3.6V or
Place a resistive voltage divider from Pin 1 of N25 to Pin 13 of DUT to limit the voltage to +3.6V (eg: for Vdd=+5V use 178kΩ in series and 365kΩ in shunt)

Cut PCB trace going to Pin 14 of N19 & apply a separate DC Voltage to Pin 14 in the range of +1.17 to +3.6V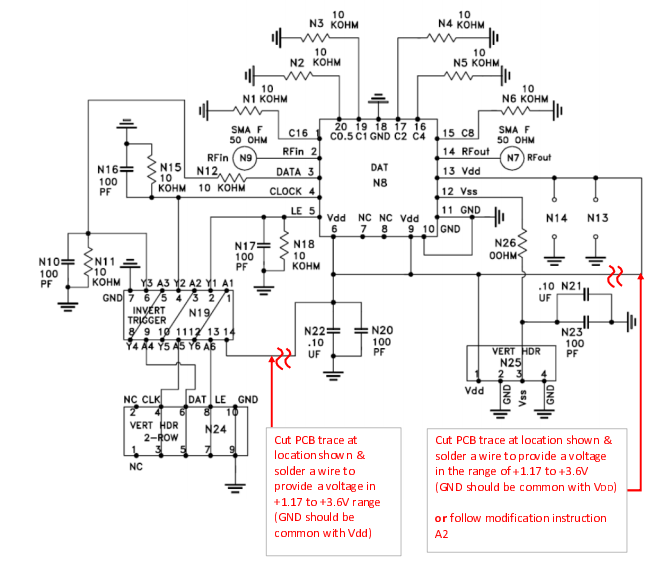 TB-339 Evaluation Board Modification to operate with VDD from 3.6V to +5.2V (Models: DAT-31R5A-PP+, DAT-31A-PP+, DAT-15R5A-PP+)
Modifications:
Set DC voltage at pin 1 of connector N2, +1.17 to +3.6V max.
Cut PCB trace going to Pin 5 of N23 & apply a separate DC Voltage to Pin 5 in the range of +1.17 to +3.6V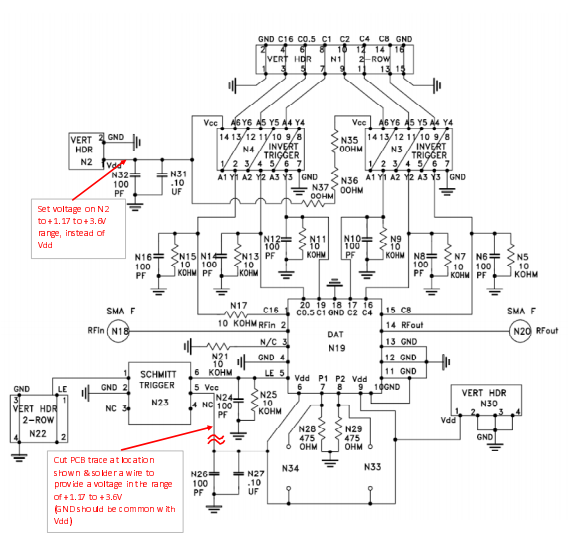 TB-340 Evaluation Board Modification to operate with VDD from 3.6V to +5.2V (Models: DAT-31R5A-PN+, DAT-31A-PN+, DAT-15R5A-PN+)
Modifications:
Set DC voltage at pin 1 of connector N2, +1.17 to +3.6V max.
Cut PCB trace going to Pin 5 of N23 & apply a separate DC Voltage to Pin 5 in the range of +1.17 to +3.6V